UK TREND : The public reacts to Ronaldo joining Saudi side Al Nassr
فريق التحرير 31 December 2022
Cristiano Ronaldo has signed a contract with Saudi Arabia's Al Nassr that expires in 2025. The Portuguese captain, who left Manchester United after a controversial interview in which he criticised the team, is now a free agent.
According to reports, Ronaldo will earn more than £177 million annually, the highest football salary in history.
Honestly this is sad, he gave up ngl! Could've retired🤷🏽‍♂️his legacy is in ruins now 😒 #ronaldo #AlNassr what a joke! https://t.co/TZBRPXcwBa

— Ryan john (@eldhogeorge1997) December 30, 2022
Following Cristiano Ronaldo's transfer from Manchester United to Al Nasser, the hashtags #Ronaldo, #Saudi, and #AlNassr have been trending on Twitter.
UK TREND: Arab and Saudi fans warmly welcome Ronaldo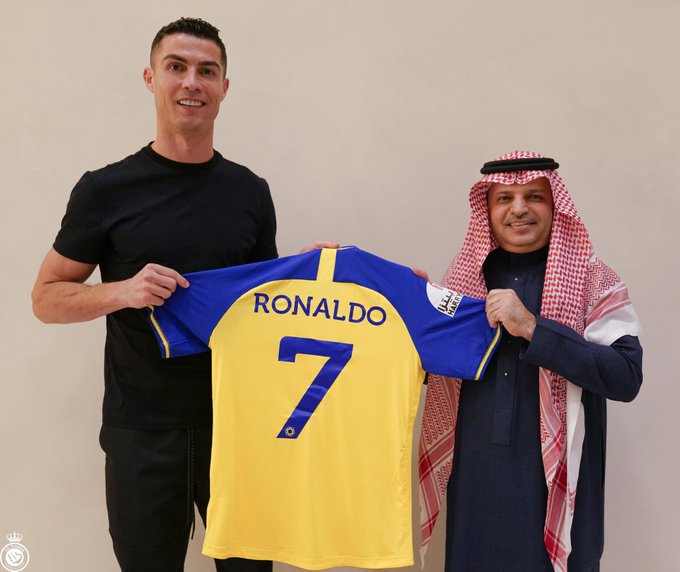 Arab supporters, and especially Saudis, tweeted their joy at having a top-tier footballer join one of their elite teams.
Twitter user Hamza Saed tweeted that " Saudi fans are very happy that football legend Cristiano Ronaldo joined the majestic team, Al Nassr. Congratulations to Al Nassr Fans and a warm welcome to the legend Cristiano in Saudi Arabia".
The "All Sports0" sports account on Twitter highlighted that Cristiano Ronaldo is not your average player joining a team because he will bring about a lot of change that is already anticipated. As a result of him joining Al Nassr more people are expected to watch the Saudi football league, the Nassr team will become more well-known both locally and internationally, and tourists will visit Saudi Arabia in greater numbers to watch the "goat" play.
UK TREND: Ronaldo gets sharp criticism!
If I were in #Ronaldo shoes, id rather retire or sit on the bench rather than playing in #alnasr with my due respect. He keeps claiming that he is the best player or #GOAT𓃵, but none of best players/legends had such sad end.

Btw, I am happy for #ALNASSR and their fans.

— Mr Hamana (@MrHamana8) December 30, 2022
Other fans, particularly English football supporters, mocked Cristiano for joining Al Nassr, saying they had hoped he would join one of Europe's top teams after his time at Manchester United. They joked that he had been "banished to the dessert."
Fans were saying that Ronaldo "has given up" and that it would have been better for him to retire because his "legacy is ruined now" by moving to Al Nassr.
Since it is said to be the most expensive football contract in the history of the game, many fans thought Cristiano Ronaldo was only joining Al Nassr for the enormous sums of money he will be receiving. Fans tweeted that " It is the most pathetic thing to happen in football" and that "Ronaldo preferred the money". (chainwitcher.com)
Nevertheless, the legends lovers came to his defence and tweeted " Ronaldo doesn't need the money, he has more than your imagination. He just wants to play in peace, doing what he loves the most in his life. So, stop trolling the GOAT".
---
Read more:
UK TREND : The public reacts to Messi in a besht
UK TREND : The end of Morocco's adventures upsets fans worldwide
UK TREND : Twitter outrage over Jeremey Clarkson's piece about Meghan Markle