Dr. Rehab Aljamal is set to receive an award for Arab scholar achievements in the UK for 2023 at the annual Gala Dinner hosted by Al-Arab in UK (AUK) platform.
The event is organised to celebrate the one-year founding anniversary of AUK under the slogan: "A Year of Communication" on Friday, March 17, 2023, at the Metropole Hotel in London – Richmond Hall. Many Arab diplomats, businessmen, businesswomen, and intellectuals are set to attend the dinner, especially those whose presence and creativity were covered by the platform during 2022.
Born in Kuwait, Palestinian-Canadian Dr. Rehab Al-Jamal has resided in Scotland for decades, working in the field of biopharmaceutics, and leading a major pharmaceutical company in Scotland, and has many patents in the field of medicine.
Al-Jazeera had previously dedicated an entire episode to Dr Aljamal in "the Expatriates," a program shedding light on the achievements on Arab expats all around the world.
After finishing her second year in medical sciences in 1990, Aljamal left Kuwait to get practical experience from the University of Bradford in the UK, but the outbreak of the war in Kuwait changed everything.
Cut off from her family at the beginning of her scientific career, Rehab Aljamal refused to give up the pursuit of knowledge, later becoming a distinguished scientist in pharmaceutical research.
Rehab Aljamal among AUK Gala Honorees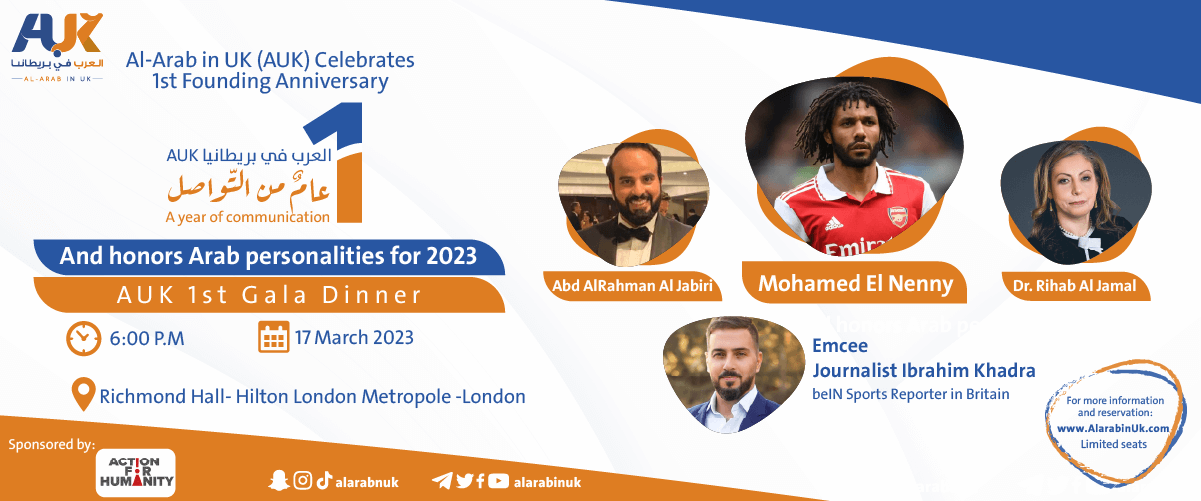 On choosing Rehab Aljamal for the Arab Scholar award Editor-in-Chief at AUK Adnan Hmidan stated: "It was her prominence as a determined Arab woman in STEM, who excelled to the point of registering patents, whilst fulfilling her role as a mother and wife, including taking care of her terminally ill husband in recent years- for whom we pray for a speedy recovery.
On top of it all, she is an active member of multiple charities that help those in need in Palestine and other regions of the world.
Rehab El-Jamal is among a number of other figures honoured in AUK Gala Dinner 2023, including footballer Mohamad Elneny for Arab athletes, expert Othman Moqbel for charity work, and content maker Abdul Rahman Al-Jabri for Arab influencers in the UK.
Proceeds from the AUK annual Gala Dinner will go towards aiding for those affected by the Turkey-Syria earthquake, in cooperation with Action for Humanity.
Read More:
AUK First Gala Dinner to Celebrate its Anniversary
Mohamed Elneny Star of Arab Athletes in UK 2023
Outrage as Gaza children's artwork removed from London hospital