Calls for Eid Prayer in West London with Sheikh Mohammad Jibril
فريق التحرير 12 April 2023
The Arab community in Britain is inviting all Muslims for the Eid prayer and celebration in West London at Harrow Center behind the well-known Egyptian Imam and reciter Sheikh Mohammad Jibril.
Eid Al-Fitr 2023 is expected to be celebrated on Friday 21 of April or on Saturday 22 April. according to astronomical forecasts as well as the statement issued by the Central Mosque of London. Please follow our website AUK where we will publish the statement as soon as it is issued.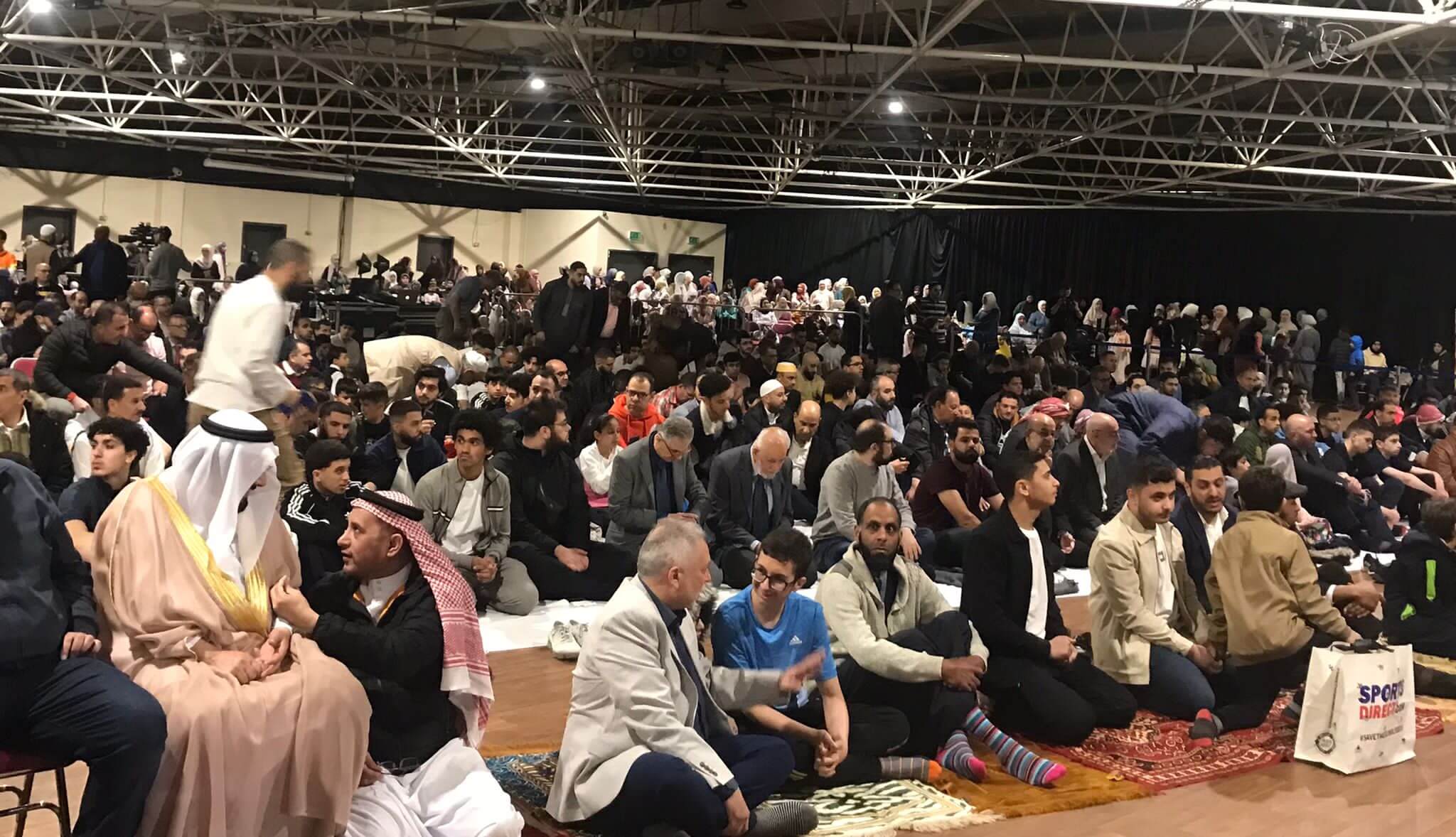 Organised by the Palestinian Forum in Britain (PFB) for the second year in a row, this invitation to perform Eid prayer is set to bring West London Muslims and Arabs together for a day of Eid celebrations. This year, it comes in collaboration with:
Jordanian Forum in the UK
Tunisian Culture Association of Britain
Muslim Association of Britain
Iraqi Dar al Salam Center
The Lebanese Association of Britain
Levant Society
British Egyptian Society
With commercial support from the Al-Dimashqi Group of restaurants and stores in Shepherds Bush, west London, including Ayam Zaman Restaurant.
This event will be sponsored and covered by Al-Arab in UK (AUK) platform.
Preceded by Takbeerat Eid Al-Fitr, the Eid prayer will start at 8:00 AM led by Sheikh Mohammad Jibril, followed by a sermon delivered by Sheikh Mohammad Sawalha.
There will also be a variety of reliable charitable institutions on ground if anyone needs to pay zakat ul-Fitr before the prayer. The Mayfair Islamic Centre estimated zakat al-Fitr for this year at ten pounds per person.
The PFB also invites all to a day of celebration in its Eid ul-Fitr Festival 2023, which is set to be held on Saturday, April 22, 2023, in Byron Hall of the same Harrow complex, from 4 PM until 9 PM.
Who is the imam of the Eid prayer, Sheikh Mohammad Jibril?
His name is Mohammad Mohammad al-Sayyid Hassanein Jibril. He is a reciter of the Quran. He was born in 1964 in the village of Tahuria, in the Shebin al-Qanater district of Qalyubia Governorate in Egypt. He memorized the Quran at the young age of 9. He holds a BA in Sharia and Law from Al-Azhar University. He is married and has three children Amr, Sarah, and Youssef. Although he resides in Egypt, Sheikh Jibril visits the UK every year and prays Tarawih as the imam in several mosques.
---
Read more
When is Eid Al Fitr 2023 in the UK?
The Jordanian Forum in the UK 2nd Annual Iftar
Palestinians in the UK Campaign to Restore Jordanian Refugee Camp Houses