Timeline: The life of Queen Elizabeth II
فريق التحرير 10 September 2022
On Thursday, September 8th, Buckingham palace announced the death of the UK's longest-serving monarch, her majesty Queen Elizabeth II after. She passed away at Balmoral, at 96 years old, after reigning for 70 years. (https://loscoches.com)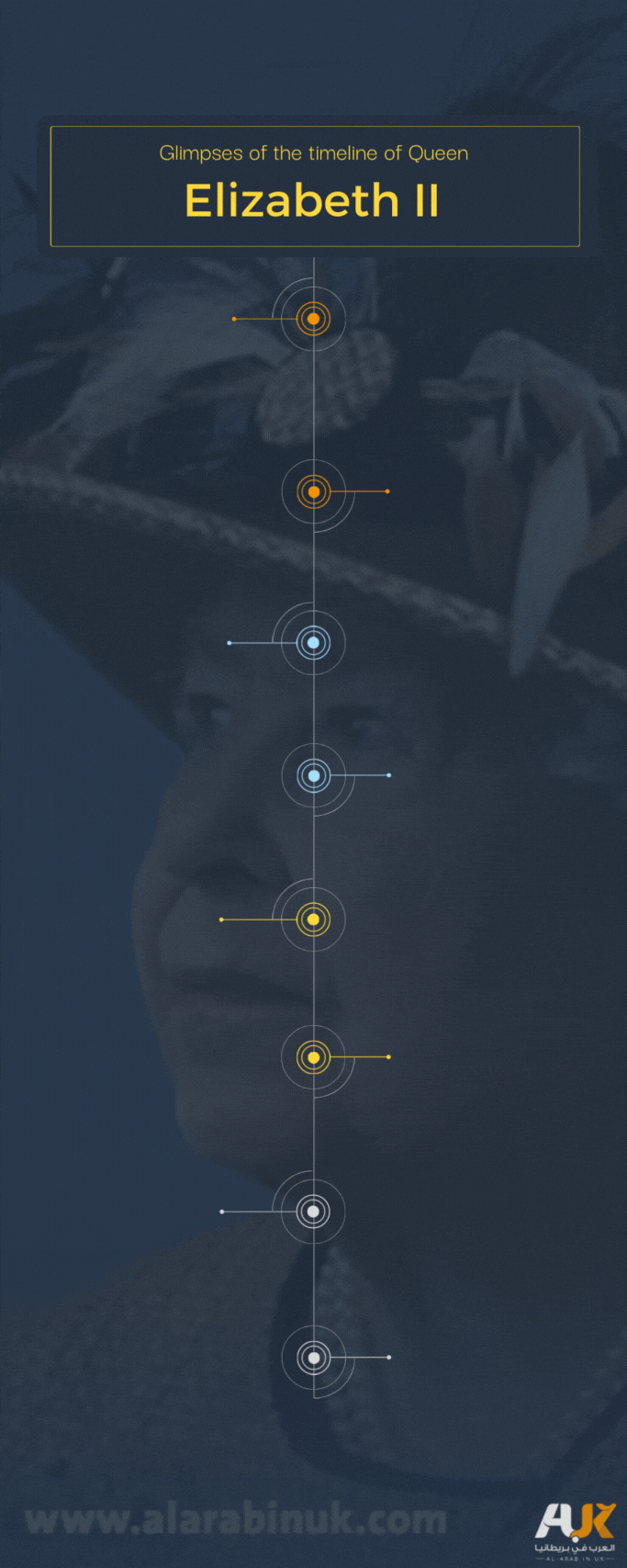 Elizabeth II was born on April 21, 1926.
Head of the Church of England.
The daughter of King George VI, who acceded to the throne in 1936.
She acceded to the throne at the age of 27 on February 16, 1952.
She was named Elizabeth II after Queen Elizabeth, who was the monarch in the 16th century.
The Queen celebrated her platinum jubilee in 2022, 70 years as a monarch.
During her term, 15 prime ministers had led the British government, the most recent of whom was Liz Terrace, the current prime minister.
Queen Elizabeth is the head of 15 of the Commonwealth Nations, including the United Kingdom, Australia, New Zealand, Canada, Jamaica, Belize, the Bahamas and Papua New Guinea.
Queen Elizabeth II is the longest-serving monarch in the history of the United Kingdom.
Queen, Elizabeth has visited more than 100 countries, another record for a British monarch.
She has made more than 150 visits to "Commonwealth" countries.
She was the first British monarch to visit China in 1996.
She is the first British monarch to address the US House of Congress in 1991.
She was married to Prince Philip for 73 years before his death in 2021.
She passed away after 70 years of ascending to the throne on Thursday, September 8, 2022
King Charles's accession after Queen Elizabeth's death
Her 74-year-old son Charles became king of the country later under the name: King Charles III.
King Charles is the first member of the royal family to speak in the House of Lords since the era of Edward VII in 1974.
Charles completed his university studies at Cambridge in 1970.
His son, Prince William, 40, is considered his heir, and he is the son of the late Princess Diana.
Charles' wife Camellia acquired the title of Queen Consort.
---
Read More
Queen Elizabeth II dies.. What to expect from the upcoming days?
Life expectancy in the UK is dropping
The British police take the Queen's son at his word regarding sexual accusations