More than two Muslims celebrated Eid ul-Fitr on Saturday, April 22, 2023, at Byron Hall, forcing the organizers to stop allowing entry of more people due to the hall reaching its maximum capacity for the first time.
The hall, which has an area of ​​more than 1,600 square meters, was decorated for Eid ul-Fitr, had many games for children, and included traditional food carts and, of course, tea and Arabic coffee.
Eid ul-Fitr 2023 Celeberation in London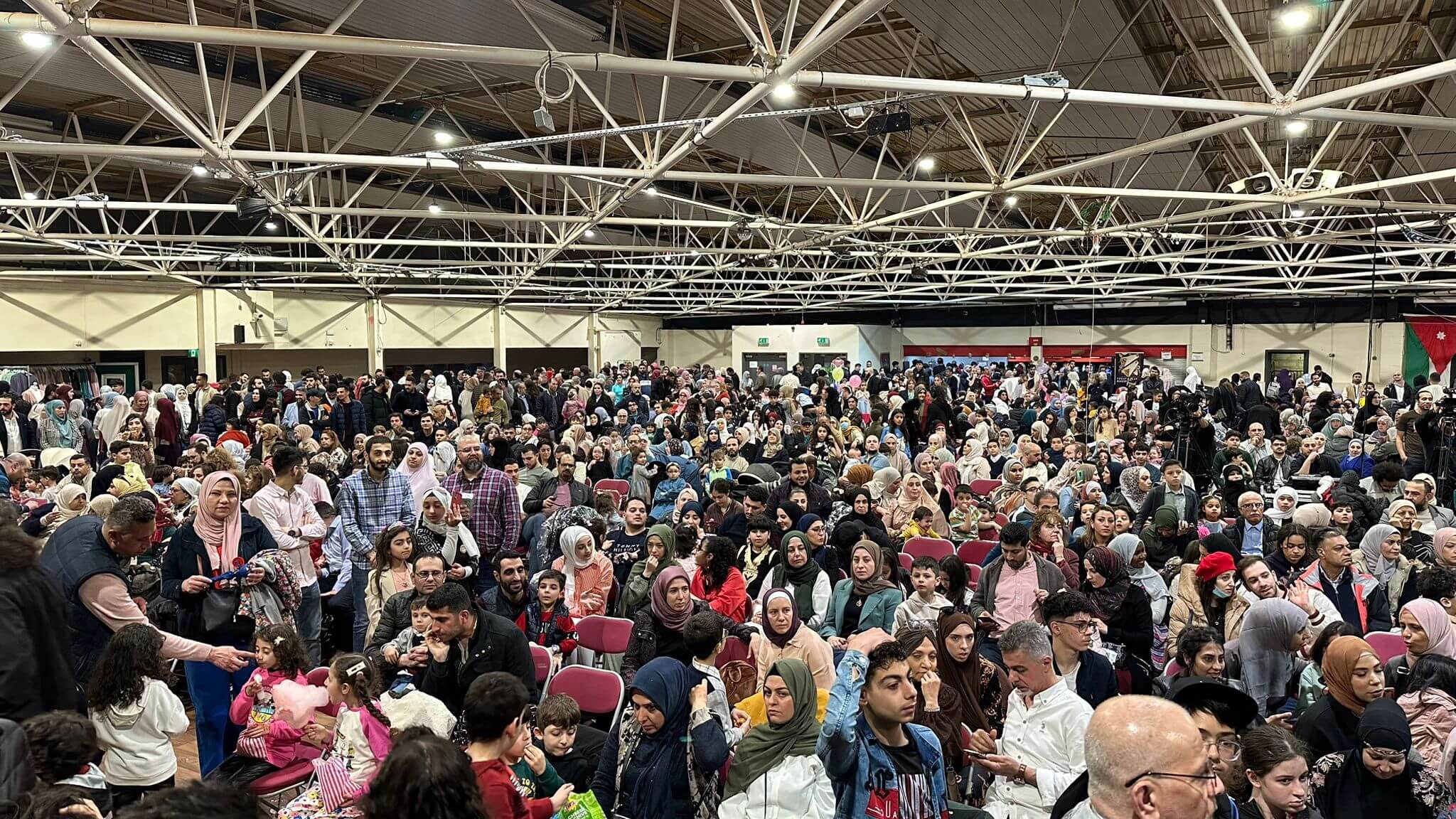 Unlike previous years, Byron Hall reached its full capacity before the start of the event that was organized by Mustafa Al-Tamimi. The audience was first welcomed by the President of the Palestinian Forum in Britain (PFB) Zaher Al-Birawi, who proceeded to thank the Arab and Islamic associations that participated in the invitation to this celebration, namely:
Tunisian Association in Britain
The Lebanese Association in Britain
Levant society
The Egyptian Association in London
The celebration included many entertaining activities, including a live show of known heritage songs performed by Rabie Rizk, an illusion show by the artist Andrew, and a unique cultural competition that was organised by Omar Moufid with various questions about the Arab world and instant prizes presented by the Damascene Group – Ayam Zaman and Crispy Place Restaurants.
And of course, no celebration is completed without Dabke Show by the Forsan group.
The joy was shown by those who attended and many expressed their happiness at the celebration, although some had to leave reluctantly after watching part of the program due to overcrowding. They called for finding a larger place to accommodate the large numbers that are now leading the activities organized by the Palestinian Forum, especially with the expansion of the coordination circle to include the various Arab associations.
Al-Arab in UK (AUK) platform promotion of the event also helped increase the number of attendees.
Overall, it was a lovely and lively celebration that brought joy and happiness to Muslims in the UK celebrating Eid ul-Fitr.
---
Read More
How to make Maamoul cookies for Eid Al-Fitr 2023?
Eid Al-Fitr Festival 2023 to be held on Saturday 22nd in West London
Calls for Eid Prayer in West London with Sheikh Mohammad Jibril