Those who damage the image of Taraweeh
عدنان حميدان 4 April 2022
Muslims enjoy and love Ramadan's rituals, as the Taraweeh prayer brings them all together, standing in rows next to each other, hands facing the skies, asking God to grant them mercy and his divine.
to listen to the original audio – in Arabic – please check the below recording:
https://soundcloud.com/user-345525036/taraweeh?utm_source=clipboard&utm_campaign=wtshare&utm_medium=widget&utm_content=https%253A%252F%252Fsoundcloud.com%252Fuser-345525036%252Ftaraweeh
To the worshippers
But one can see that such a beautiful ritual is ruined by simple human nature, below is some examples:
Randomly parking their cars around the mosque, blocking other cars or driveways, in the hope to try and catch the prayer
Turning the mosque into a place where they can whisper and talk, disturbing other worshippers around them!
Not wearing appropriate clothes or eating foods that have a strong/bad smell.
rushing outside the mosque when done, and pushing other worshippers out of the way

Leaving their shoes in the way and not putting them in the designated place

Wasting water when performing Wudu – Pre Prayer Washing –

Raising their voices when leaving mosques at night, especially in Western countries, has a negative impact on non-Muslim neighbours of the mosque.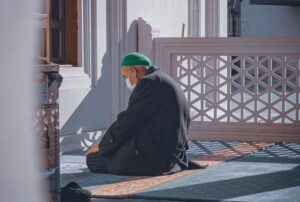 To the Mosque's committee
However, this burden does not only rely on the worshippers, but some Imams and mosque committees do have bad habits too; such as:
Not choosing a right Imam that sounds good
Not taking into account Muslims who work early hours when taking long in the prayer
But also, not taking enough time praying and speeding up the prayer.
Giving the opportunity for those who chose to sound good instead of reading the Quran good
Some Muslims fall within one of the below scenarios or more:
Never going to the mosque
Not going to the mosque with his family to encourage his kids to go in the future.
Going to the mosque and taking his/her family and kids – and this one is the best of all
Goes to the mosque regularly but might be doing one of the above mistakes.
Before I conclude, I must say to the mosques committees and administrations, Thank you for your efforts and for always volunteering, but you should be a role model in society.
Hence, the phone, e-mail, and all means of communication related to the mosque are neither a luxury nor an adornment, and they must be activated and taken care of, as many struggles to communicate with the mosque when they wish.
Some Muslims harm their fasting, Ramadan in general and the Tarawih Sunnah in particular, when they neglect to take care of basic etiquette, which in return harms the religion.
---
Read More
Hussein Halawa: UK Muslims must unite behind their mosques in Ramadan