Today, the Palestinian Forum in Britain (PFB) organises a solidarity protest with the Palestinian people outside the office of Prime Minister Rishi Sunak, to urge the government to call for a ceasefire in Gaza.
The protest comes after more than 42 days of Israeli aggression on the Gaza Strip, which – as of now – murdered more than 11,000 people, of whom more than 5,000 are children.
Solidarity with Gaza: Palestinian Forum in Britain urges UK government to call for a ceasefire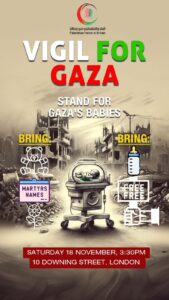 The forum condemns the position of the current British government and the opposition Labour Party leadership, which refused to call for a ceasefire, despite the humanitarian catastrophe caused by this aggression.
This catastrophe goes beyond committing massacres and murdering thousands of people with relentless bombing from air, land and sea. Hospitals are also bombed, besieged and occupied with thousands of people inside, a total siege is imposed on the Gaza Strip residents, and the entry of fuel, food, water and basic supplies is prevented, which is leading to a famine across the strip.