Hundreds of people gathered at the Great Barbican Theater in London on Saturday evening 12 March to watch the Egyptian artist Hamza Namira accompanied by a distinguished orchestra that came specially from Egypt.  Within an hour and a half of brilliance, Namira transferred the artistic heritage from the ocean to the Gulf, passing through Egypt and Palestine.
The diversity of the Arab audience on this evening was remarkable, as Namira was greeted with loud shouts and cheers every time he asked about an Arab country;  Especially when asked about Egypt, Palestine, Iraq, Algeria and Morocco.
The artist Hamza Namira
Namira was born in Egypt on November 15 1980, and he is known as a singer, musician and composer. In his singing  career, he paid special attention to authentic Arab culture, and listeners have long praised him for embodying the bonds of human and social relations through his songs.
Known for his catchy songs and resonant voice, Namira has always been admired for his good choice of lyrics and the kindness of his music.  His melodies are always filled with a spirit of nostalgia, which adds a distinctive warmth to his performance on stage.  This what the audience witnessed at the Barbican Theatre.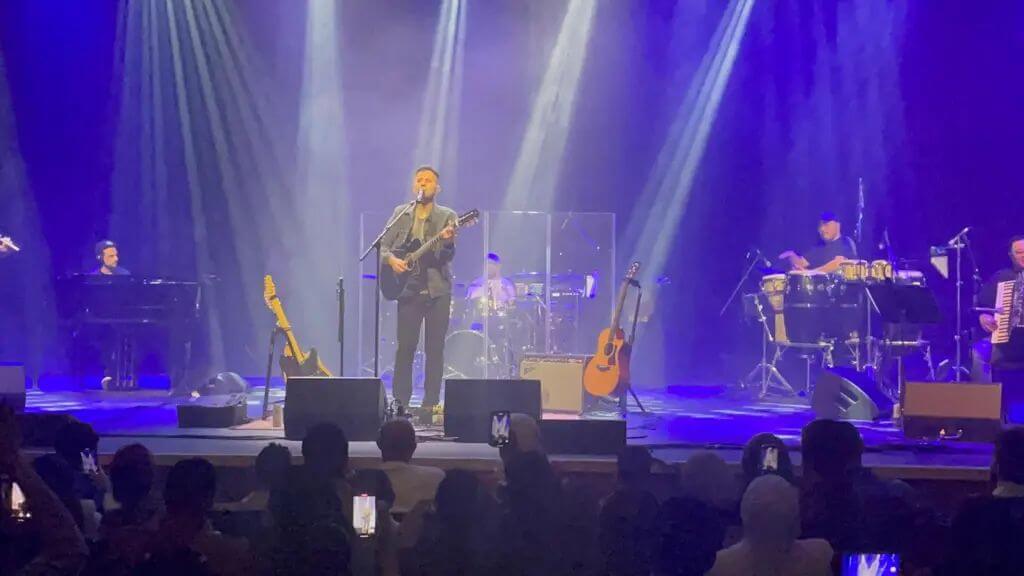 At London concert, the artist Namira surprised one of the audience – a man named Zafer – by dedicating a song to him and his wife, because Namira was affected by a message he received from Zafer thanking him for the song "Al waq3a Al Akhira";  Which Zafer presented to his wife as an expression of his appreciation for her beautiful standing by him and her support in times of hardship.
In addition, Namira starred in presenting his most prominent songs "Dari Ya Qalbi", which he produced four years ago and whose views on YouTube exceeded 311 million views, which also achieved records on the Soundcloud application and other applications.
He also sang the distinctive song "Fadi Shwaya";  Which has more than 208 million views on YouTube, despite its release just about a year ago.
It is noteworthy that this event was organized by Marsm UK, an events company that promotes the culture of the Arab world throughout Britain and abroad.  It is the second concert of Hamza Namira in cooperation with it, after a two-year break due to the Corona pandemic and the conditions it imposed.
---
Read more:
13 events held by the UK's Arab communities during February and March
"My Historical Thobe": International campaign dedicated to the Palestinian thobe