An outstanding Moroccan and Arab Exhibition took place in Watford, West London, on Saturday, January 15th, 2022. The great event was solely organized by the Moroccan activist Kawthar Lahmami with the help of some Arab and Moroccan heritage enthusiasts and activists and more people than expected had attended to enjoy it.
Arabs from all around the world had attended
One of the attendees had thrillingly described the joy she felt sharing being around people and sellers from different backgrounds.
Another even said "Great Festival, the variant traditions are vibrant here"
The star of the show: The Moroccan Caftan.
One of the participants and sellers in the festival was happily describing the different Quftans she had in her booth. "We have Moroccan different types of Caftan/Thobes varying from homeware to Weddings and Celebrations ones, I have many of this and that and even one with my country – Moroccon – Flag on it!"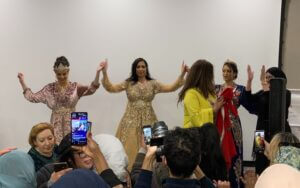 The Palestinian Keffiyeh always present
A proud Palestinian seller welcomed us to her "Palestinian Corner" showing us "The Palestinian part in the exhibition". The corner had Keffiyeh, traditional Thobs, and many more Palestinian products.
Dialects from all around were heard
One of the sellers said: "It is very heartwarming how much people have come. They all checked our products."
Another also said expressing her delights with the number of people in the exhibition: "Even though the name has "Morrocan" in it, many of the attendees, Mashallah, were from Syria, Iraq, and Palestine, and they are more than welcomed!"
"We did not expect many people to come because of Covid – 19 and the pandemic, but thousands had come!" She added.
Many people enjoyed the festival with their kids and families after two years of restrictions and lockdown. one of the participants is a Moroccan music player who usually plays Moroccan Traditional Music in festivals, events, and weddings.
Another had expressed her delight saying: "This is the first time I participate in an exhibition in London and I did not expect it to be this big Mashallah! It is great!"
And many were happy as well, one even said: "The exhibition was amazing. There were many different parts of Arab's traditional"
Some Moroccan sellers made traditional Moroccan deserts, such as Couscous, Bastilla, and more! and also served Morrocan tea.
Another had a table of Algerian deserts, he said that the event organizer asked his wife – a friend of hers – to prepare and get some Algerian traditional deserts.
One seller had a unique mix of heritages, as she is an Egyptian who lived in Jordan for 20 years then moved to the UK. She pointed out that her many heritages influenced her dishes, having many tastes from Palestine, Jordan, and Egypt!
The traditional Moroccan handmade products were present at the festival in many corners. Made traditionally by Moroccans.
One unique seller had colored eye lenses. She said that the company made very dark-colored lenses, she had five different shades in the exhibition.
Many Arab handmade products were present as well!
One corner sold hand-embroidered Palestinian Thobes. Another welcomed us to her corner selling handmade organically scented soaps.
There were jewelry sold by another seller as well, "I started my own jewelry line exclusively sold in the exhibition"
How did Kawathar come up with the idea?
The organizer of the event Kawathar said: "the idea of the exhibition came because I had many Morrocan and Aab friends who had their own home-based business selling their products. I have also attended many exhibitions and I was inspired by them and thought to myself: why not organize a Moroccan and Arab exhibition the first of its kind that can bring many people to close together?"
What do you think of the exhibition?
I think it is very nice to bring the Moroccan heritage to this country – UK -, especially since many people, do not know much about our culture and this exhibition gave us the opportunity to show it.
It is very nice how many people came curious to know more about our heritage and culture. Many people also like buying organic products which they found in this exhibition.
Alhumdallah, we sold more than we expected! Many people needed this exhibition.
This is the first time I was around so many people from Alegria, Tunis, Morroco, and the Maghreb – Northwest Africa – in general.
It is amazing, we have been here since the morning and met so many great people!