What this Storm Taught Me
Adnan Hmidan 19 February 2022
Storm Eunice hit many parts of the UK, including London. Sweeping winds exceeding 100 mph tore the country apart. In a matter of hours, Eunice knocked down pedestrians, uprooted old trees, stopped mighty, modern jets from landing safely; and filled the skies with struggling birds, wheelie bins and a like, construction debris, and other wind-swept items,
The strong British infrastructure, often a source of national pride, failed to prevent four casualties, power outages in 200,000 homes,  drastic effects on
Storm lessons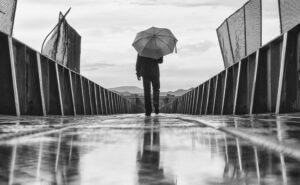 This storm taught me that the much celebrated scientific and technological progress we have made so far is only capable to predict a catastrophe. It cannot prevent it, nor accurately estimate the aftermath.
This storm taught me that our modern house can easily resemble the stone ages caves when power is lost. Suddenly, we can't cook, start heating, lighting, charging a car, or washing up, no matter how urgent is our need.
This storm taught me that money can't buy peace of mind. I genuinely felt the pressure and worry of all those stranded in airports or stuck in roads due to falling trees.
This storm taught me that having a shelter is a blessing. Just look at people who have found themselves suddenly dealing with broken roof or destroyed fence.
This storm taught me the blessing of being surrounded by family. A lovely sense of satisfaction engulfs you staying with your loved ones, and to find them healthy and well, even if the world is falling into chaos around you.
This storm taught me how man's dire need to Allah mercy. No matter how vain humanity gets over its achievements and innovation, we saw that a simple gust of strong wind can crash down all of it.
This storm taught me that sympathising with the peoples sufferings is the best way to overcome all challenges. No matter how great your suffering, there are people who are undoubtedly withstanding greater tragedies. Let us be humble and thank Allah despite our seemingly misfortunes.
This storm taught me that you can appreciate people caring about you during difficult times. They are the people who discarded their own fears for a moment to look after your wellbeing.
Don't blame those who did not reach out, they may have been preoccupied with their hectic lives, and others can be understandably overwhelmed by their own sufferings.
On the other hand, this storm taught me not to expect support from anyone, and not to rely except on Allah, for only Him can provide comfort and happiness in times of need.
People may be preoccupied with other aspects of life, but Allah is always very close to his worshipers.
Finally, this storm taught me to rearrange my priorities and to contemplate every facet of life. Material things can easily vanish, but our good deeds stay forever.
For how Long?
The question is: Why do we always need a storm to wake us up from the blindness? What will remain after this storm and its dangers have ended?
What can be done when that inevitable moment arrives, and our souls leave our bodies; forever? Are we really ready for that eventuality?
Everyone has a different answer. Still, we ask Allah to protect you all, and to help all of us in avoiding any misstep or negligence. (Adipex)
فيديو : رياح #عاصفة_يونيس الهوجاء تهوي بشجرة عملاقة في #ديڤين جنوب شرق #انجلترا ولا أنباء عن إصابات،، السلطات تؤكد على ضرورة البقاء في المنازل pic.twitter.com/7XuQ6JmW1V

— AUK العرب في بريطانيا (@AlARABINUK) February 18, 2022
Read More:
10 Facts about Mohammed the Most popular Name in Many Western Countries
UK removes Dome of the Rock from the cover of the trade agreement with Israel
13 events held by the UK's Arab communities during February and March