Sabah Achhide wins Leeds award for Community Service
Sabah Achhide is a gentle soul who bewitches everyone with her kind heart. She embraces all, regardless of nationality, race, religion or age.
And in her organization "MEMEC", Sabah opens doors to all those in need and extends a helping hand to them; she will never refuse them if they ask for her help. In fact, she has been recognized for her tireless efforts by all of Leeds.
Sabah Achhide and Asylum in the UK
Sabah is of Lebanese descent, but she was living in Dubai when she decided upon getting pregnant that she would give birth to her daughter in the UK, hoping for a better life for her family.
Ms. Sabah studied in Lebanon and Britain in a programme in Business Information Technology. During her studies, she had to volunteer to gain experience. And every training session she started, she finished in record time. Her instructors were surprised that she completed a 7-month course in a matter of 5 days.
Due to her well-deserved success, the teachers asked her to give training sessions and to teach the students alongside them.
Sabah also continued her studies at a British university, majoring in Arabic Middle Eastern and Islamic Studies.
Idea for a Sadaqa Jariya
Mrs. Sabah's story with MEMEC began when she lost her mother – may God have mercy on her – in 2012, on Valentine's Day no less. The loss was very difficult for Sabah, so she thought a lot about starting a sadaqa jariya (ongoing charity) in her mother's name in the hope that it would ease the pain a fraction.
"Put a Quran in a mosque" and "leave some water for the thirsty," were some of the suggestions Sabah received.
But even after doing this and that, Sabah was still looking for something more tangible.
Ever since Sabah was a little girl, her mother always urged her to be
 more active, even if it was just at home. Her hobbies included fashion design, decoration, sewing, make-up and hairdressing.
Then, Sabah came up with an idea when she was shouldering so many responsibilities that it was difficult for her to balance all of them. She then thought that the work of the Red Cross – for example – was concerned with a limited group of people with specific needs. The United Nations also targeted specific groups as well, which means that some people who do not fall into these categories end up with no helping hand.
She thus came up with the idea to build a community that supports its members and all those who need help.
She started with teaching the Qur'an to children.  "After the birth of my last child, I started noticing that Arabic was becoming weaker among the younger generation," she said.
This caused problems for the parents because their children no longer understood the Arabic language, while some parents faced issues with the English language. A large communication gap formed between parents and their own children.
So, besides teaching children the Qur'an and Arabic, Sabah launched classes for teaching English to parents at the same time. The parents would be studying downstairs, while the kids learned upstairs.
Helping the Arab and Muslim community
English lessons were not limited to language teaching alone. It also covered a widespread look on community, such as raising children and public life in the UK. MEMEC also offers prep classes for the Life in the UK Residency Test. This was all before the global outbreak of the coronavirus pandemic in late 2019, when Sabah was forced to stop all on-field services.
[videopress bH52wJIJ]
Similar to schools everywhere, the workshops are back in operation again via Zoom, which includes teaching children daily for 5 full hours! However, after 3 months of virtual teaching, both children and volunteers began to show signs of fatigue.
Still, Leeds City Council has donated laptops and tablets to some individuals on the condition that they join MEMEC's classes. And Sabah began giving lessons to the parents online 6 days a week, divided between men and women.
As such, Sabah now gives lessons in Arabic, English and the Qur'an, for all family members; all provided free of charge.
MEMEC (Middle Eastern and Mediterranean Community) is always busy with various projects to support refugees and other groups. During Ramadan – for example – it supervised the preparation of 150 meals a day to be distributed to Muslims and the needy.
MEMEC's weekly food parcel distribution to 15 vulnerable families (10/11/2021). Thanks to all my volunteers. Without all of you, MEMEC couldn't have carried out this project. pic.twitter.com/jZsqaJy6xF

— Middle Eastern & Mediterranean Community – MEMEC (@MEMEC_UK) November 13, 2021
And due to the organization's great interest in mental health, it also organizes summer trips, recreational trips and other entertaining activities on an ongoing basis.
These activities pay special attention to reenergizing tired mothers and supporting their mental health, as they are the pillar in raising children and taking care of the family.
The gathering of families also helps to build a community united by strong bonds of trust, love and respect. All trips are organized at a token price that suits everyone.
Charitable Work Challenges
There is no doubt that the biggest challenge facing the organization is finding finances, given that it is a charitable organization that helps refugees without funding from any external party.
MEMEC does receive donations for specific courses sometimes. When asked about this, Sabah said:
"I do not use the money donated for a certain course for any other project. I think it would be wrong to use it for anything else."
Sabah says that her biggest concern is helping people, while her absolute last concern is her income from the organization, indicating that the reward from Allah is greater than any worldly gains.
However, the lack of finances sometimes prevents her from buying gifts and rewards to encourage the children. When she was bedridden, her loved ones and volunteers always helped her, and she tried to help them as well, even when she couldn't move. She yearns to reward them for their efforts, even with a token gift.
Leeds Council Community Award
Without these people who believed in her and supported her, Sabah says that MEMEC would not have achieved the success that helped them win the award for the best organization in Leeds for the year 2021.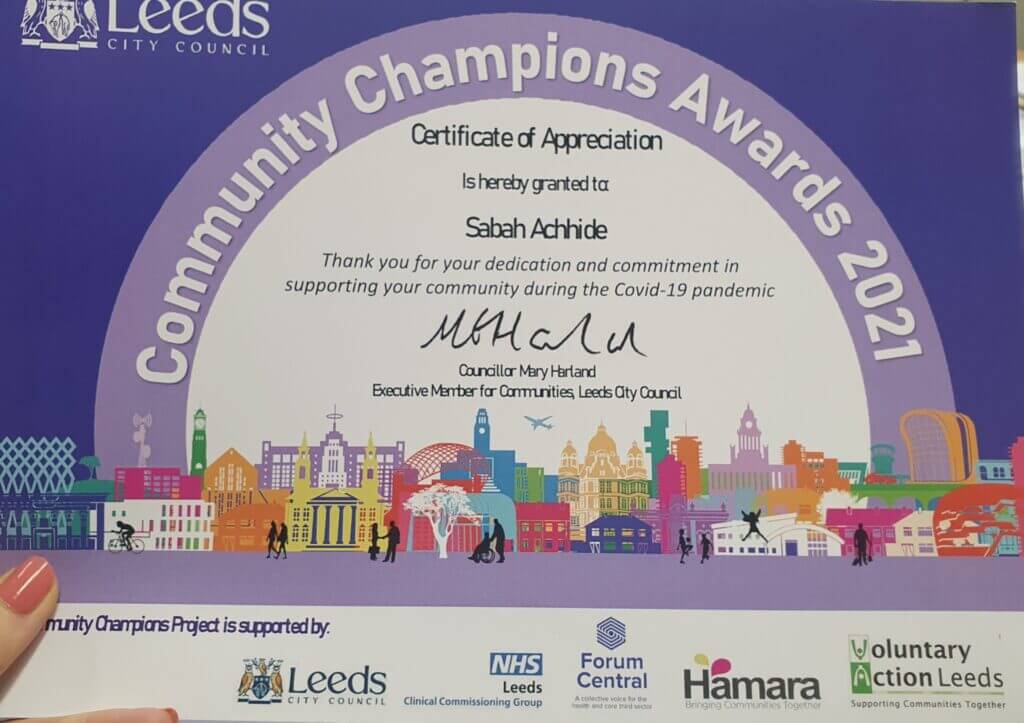 She says it all started with her daughters, who were always kind, affectionate and helpful to her, and her son – the little man, as she calls him – who always eased the burden on her in various matters of the organization.
Sabah thanked many of the organization's employees: the secretary, who has always been a supportive brother-figure in the most difficult adversities and challenges facing Sabah; the manager who she could trust as she trusts herself; the assistant manager who started out as a volunteer and in now irreplaceable; MEMEC's lawyer, who was helping her behind the scenes day and night, and the advisor, whom she described as a "friend in need", who gave her advice when she most needed it.
Sabah pointed out that simple gratitude cannot do justice to the role these people have in keeping the organization running, and its success.
They are the foundations that built MEMEC, yet they work without any earned wages.
Mrs. Sabah hopes that MEMEC will form a community based on trust and unity, and for children to grow up and know that the greatest reward is from Allah not from money or materials.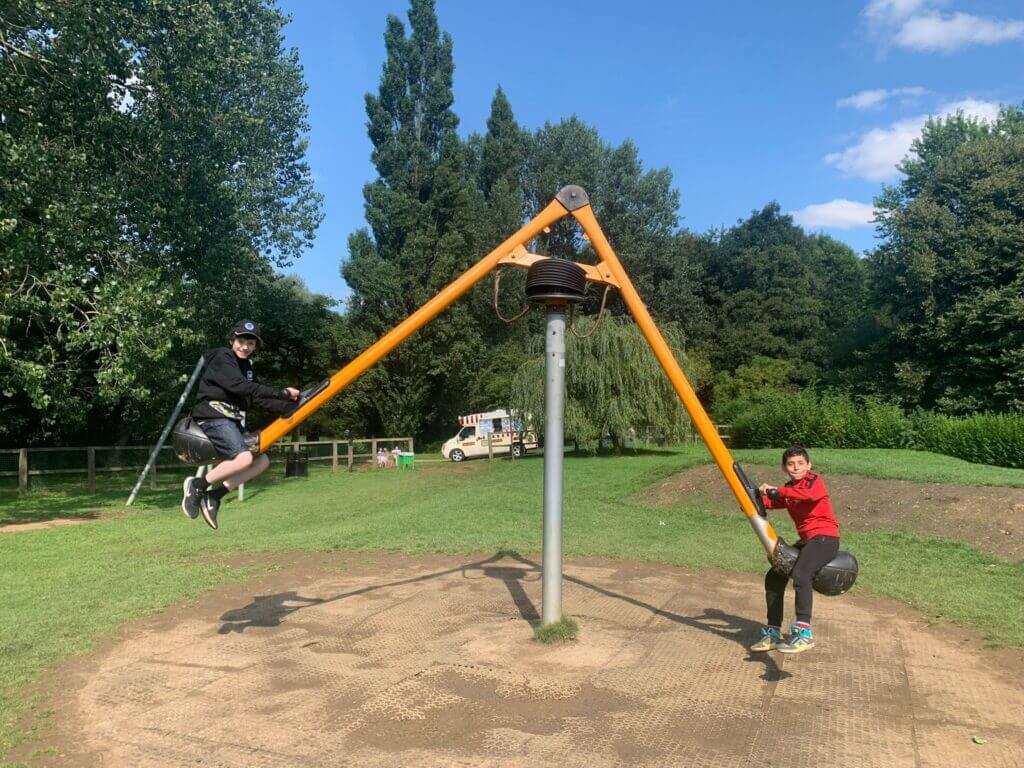 When she first started teaching, her youngest students were about three years old. Now they are between ten and fifteen years old and they consider Sabah as a role model. Pupils often say to her, "Can I teach children like you now?" and "I want to be like you when I grow up."
Due to her dedication and love in teaching them, Sabah became a role model for the children.
These are only the first achievements of MEMEC and there is more yet to come.
Sabah described the organization as her "little child" who she takes care of day and night so that one day it may grow and become a global organization.
"I want to leave a mark," Sabah affirmed. "I want to leave an organization that is willing to help everyone. Even if this does not happen in my time, I aspire for it to become a well-known international organization even after I leave this world."
# Sabah Achhide wins Leeds award for Community Service
---
Read More:
British Teacher describes pupils heartwarming welcome for a Syrian refugee
Dema.. a Syrian refugee with one leg reminds people of the Syrian struggle