Richard Boyd .. guest at the 18th edition of the Palestine Festival in Britain
فريق التحرير 19 October 2022
Every year, the Palestinian Forum in Britain (PFB) organizes a festival called "the Palestine Festival" in Britain to celebrate the Palestinian culture and heritage while also highlighting the Palestinians' right to return to their land and homes.
This year, the Forum announced the guest of honour to be the Irish MP famous for his solidarity with Palestine, Richard Boyd Barret, alongside other famous personas in the Palestinian community.
The festival will be held on Saturday, 22 October in Harrow, west of London from 2:00 Pm and until 8:00 PM
Adnan Hmidan, the general festival organizer from the Forum, confirmed that this year's theme and headline will be "Palestine in my heart", to highlight the connection Palestinians have with their homeland despite the distance and throughout generations.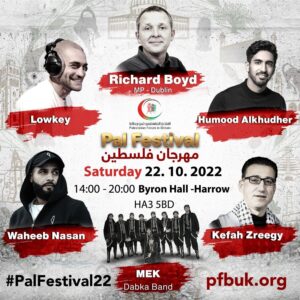 Richard Boyd …. Guest at The Palestine Festival in Britain
Richard Boyd Barret is among this year's guests after he went viral last year for speaking out on the importance of supporting Palestinians in their struggle as Ukrainians in their war. Richard had publically spoken on the Palestinian struggle and the occupation crimes many times.
Richard is among many other famous figures that have publically supported Palestine before, such as the well-known Kuwaiti artist Hamood Alkhuder, Palestinian artist Kifah Zreiki, the famous rappers Lowkey andWaheeb Nasan, and the Dabkeh band MEK – Who are flying to London from Jaffa.
The Palestine Festival aims to create and grow the sense of belonging the next generations of Arabs and Palestinian have for Palestine. And with that in mind, the Festival will have a special educational and entertaining corner for children, to show and teach them more about the Holy Mosque and the Aqsa Mosque. (homefortheharvest.com)
The Festival has other guests in mind too, as there will be traditional clothes (Thobes) booths, traditional food booths served by Palestinian Women aiming to raise donations for Palestine, and more.
The head of the PFB, Zaher Birawi, highlighted the importance of such festivals to raise awareness of the Palestinian struggle as well as to preserve their heritage and culture.
Open invite to the 18th edition of the Palestine Festival
The festival will be held in Byron Hall, Harrow, West London. The hall has a capacity of three thousand people and there will be a variety of shows and activities which will start at 2:00 PM and last until 9:00 PM.
The tickets can be bought on the PBF website and they are a form of support for the forum. The prices range from 2£, 5£, and 10£ and children under 12 years old can enter for free.
---
Read More
The Palestinian Heritage Festival in Wembley, on Saturday October 8th.
Health situation in Palestine discussed in the European Parliament