A number of participants in the sixth annual 'Iftar' -organized by the Palestinian Forum in Britain (PFB) on Saturday, April 16, 2022 at Byron Hall, west London- pledged to provide about £40,000 ($52,000) to restore Palestinian refugee homes in diaspora camps in Jordan.
A thousand people- who came from various British cities- participated in the 'Iftar' and met their brothers in a family atmosphere that revives the customs and traditions followed in Ramadan.
Greetings to Palestinians in Al-Aqsa Mosque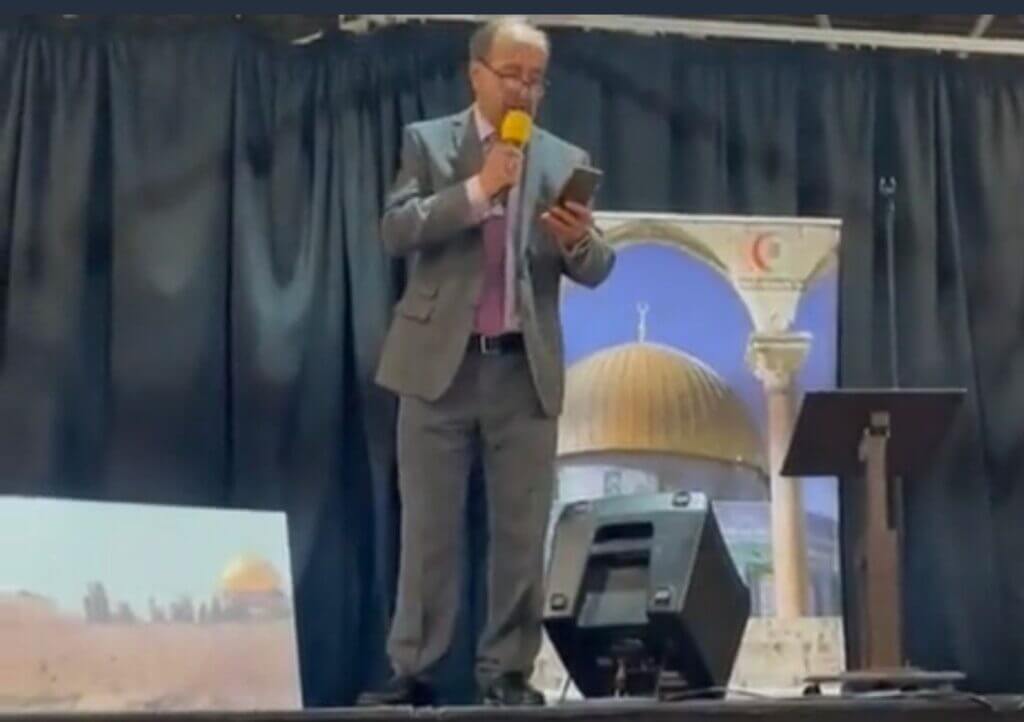 Mustafa Al-Tamimi presented the program that began with a recitation from the Holy Quran by the reciter Sheikh Muhammad Jibril -the guest of honor at the Iftar, who chose verses from the introduction to 'Surat Al-Isra' in his recitation.
Then the head of the Palestinian Forum, Zaher Al-Birawi, welcomed the attendees, sending greetings in their name and the name of the forum to the residents of occupied Palestine, especially those resisting in Masjid Al-Aqsa/Jerusalem.
Al-Birawi reminded the attendees of the necessity of participating in demonstrations in support of our people in Palestine, which will be held during the coming weeks in UK:
♦️ Demonstration in front of the Israeli embassy on Friday, April 22.
♦️Demonstration on the lobby day in the British Parliament on Wednesday, May 11.
♦️The national demonstration in London on the anniversary of 'Palestinian Nakba' (Saturday 14 May 2022).
The participation of the Palestinian chef Abu Julia(from Gaza) was remarkable, as he presented a plate of Arabic kunafa (known as Ghazawiya) to the table that made the highest donation in the activity.
Donations for refugees in diaspora camps
The Donations section was managed by the Iftar Manager Adnan Hmidan, who said that this section is the most awaited by Palestinians, to know what Palestinians and the Arab and Muslim who support Palestine offer to support and strengthen them.
Dozens of volunteers distributed Iftar food, which included: chicken, meat, rice and potato, in addition to hummus, pastries, juices and dates.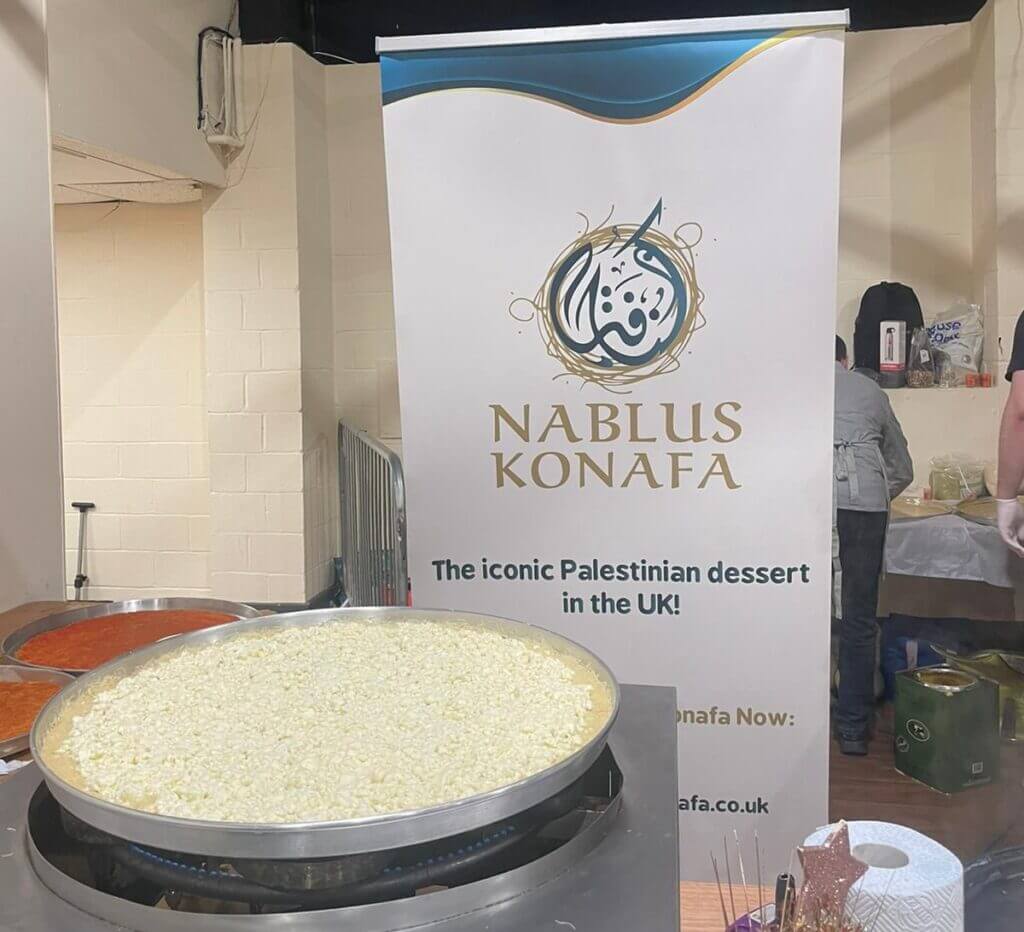 Moreover, the audience interacted strongly with the cultural competition- on Kahoot application- presented by Adnan Hmidan, and that included questions about:
The latest raid of Al-Aqsa
Previous forum activities for the Palestinian community in Britain.
At the end of the competition, Anas and Muhammad Al-Karmi, and Muhammad Al-Qaddoumi won travel tickets from Royal Jordanian Airlines, and there were many other prizes from "Fait Maison" restaurants, "Sweetland" sweets and others.
It was remarkable the forum's interest in supporting the small projects of a number of his sons, such as:
Candy sweets by Aya Al-Turk.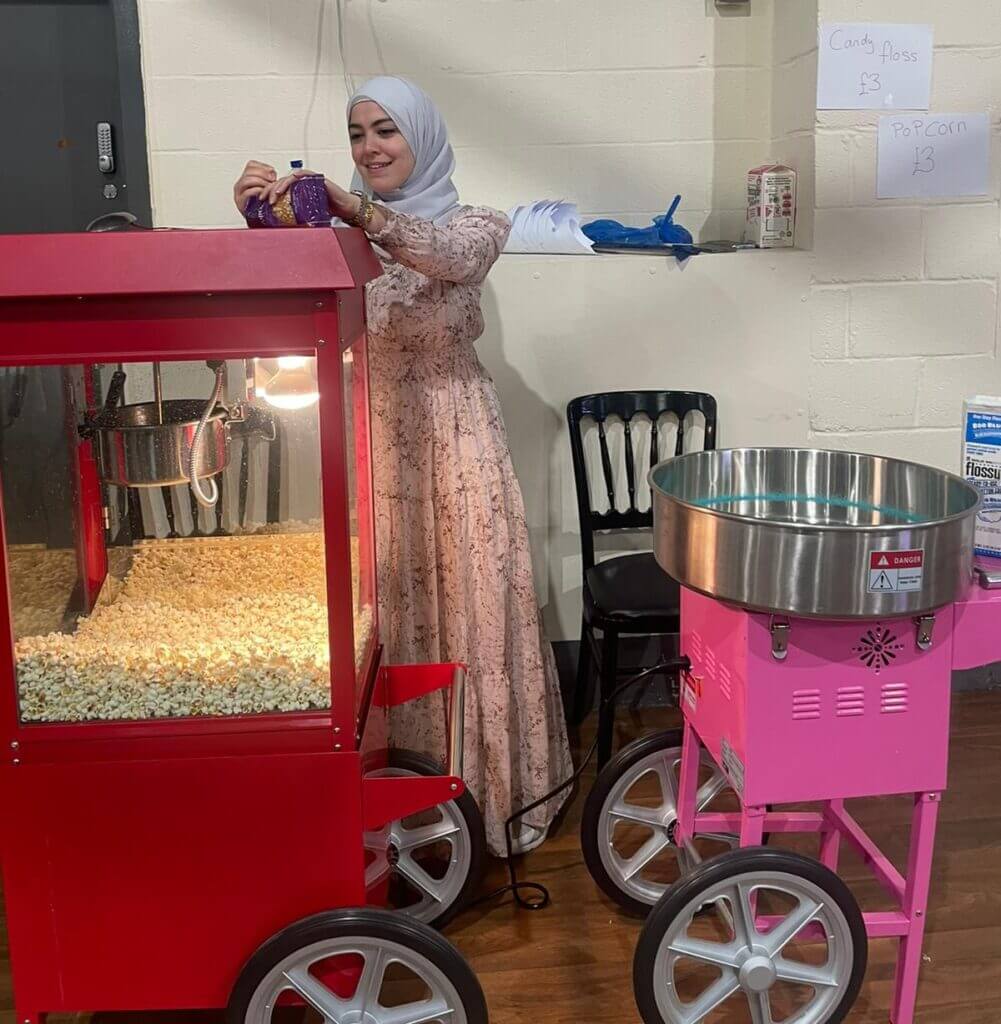 The conclusion was spiritual, and an atmosphere of supplication and reverence prevailed when performing 'Isha' and 'Tarawih' prayers behind Sheikh Muhammad Jibril.
It is worth noting that the forum has been organizing this Ramadan family Iftar for more than eight years, but this activity stopped in the two years during which Corona restrictions were imposed.
---
Read more:
The Palestinian Forum in Britain is hosts Arab Communities Day 8th cycle..
"My Historical Thobe": International campaign dedicated to the Palestinian thobe