The Opening of Damascus Bakery in Brighton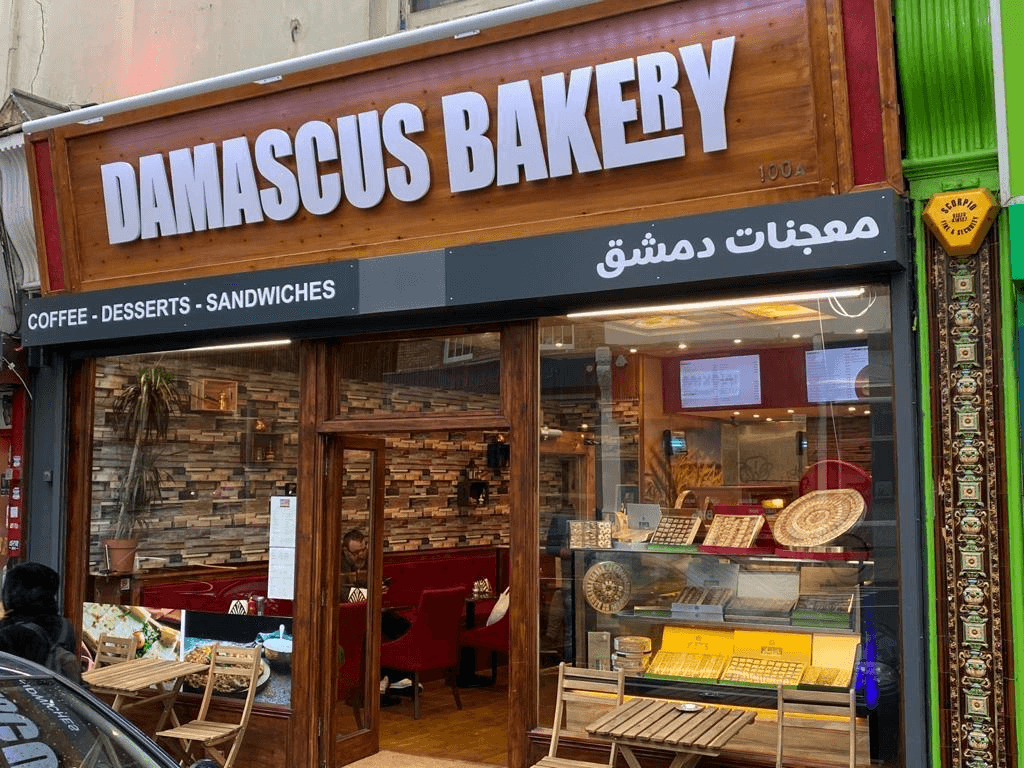 فريق التحرير 16 November 2022
We all have personal goals which we aim to achieve, obstacles along the way and our busy lives however can slow down the process of us reaching this stage. In this article, we will see an example of how dedication and tough trials in life can help keep us focused on our goals, and work as a motivator for us so that we can overcome the tough situations we are in and help allow for a better lifestyle. During an interview with Mohammad Ali Osman, a Syrian born in the North of Aleppo and living in Brighton, he explains the story of his escape from the war in Syria and how he has pushed through these tough times and opened up the first Syrian bakery in the heart of Brighton; Damascus Bakery.
Mohammad was 26 years old when he escaped the war in Syria. He travelled from Syria to Turkey to Greece then finally to the UK. His journey involved lots of walking and him being on a boat through the sea for over three months. He arrived in the UK as an Asylum Seeker then five months later he became a refugee. ''I urgently needed to start learning the language'' Mohammad expressed. During his first two years in the UK, he began to do some delivery work to help keep him flexible for his studies. Mohammad mentioned that this was one of the most challenging times that he has been through. ''I had to pick up as many delivery shifts as I possibly could alongside studies because I had to also try and save up after I paid off all my expenses'' (Mohammad).
After a very intense two and a half years of adapting to a new country, learning the language, making friends and a living, Mohammad was able to bring his wife over from Syria to the UK. This is when he realised delivery work will not be sufficient enough to fund his growing family. Mohammad added ''I noticed there are no Syrian bakeries in the city and it would be great to add a taste of back home to Brighton''. Mohammad decided to use his trade experience from Syria and start something for himself and his family in Brighton. ''We started off just me and two other guys, we have now doubled, there are six of us. All very close just like brothers, you would never think we just happen to have met around Brighton'' (Mohammad). Money was borrowed from friends and family to make Mohammad's dream a reality. The business is now very successful, he has been able to return all burrowed money and consider expansion.
Damascus Bakery … The first Syrian bakery to open in Brighton 
Damascus Bakery, Based on Western Road, Brighton, is the first Syrian bakery to open in the city using all fresh ingredients and baking everything in-house. It started off by selling a variety of Syrian Savoury Pastries such as Chicken Shawarma, Muhammara, Za'atar, Safihah and many more. With it now becoming a place where people love to hang out even for a cup of tea, they have started to serve full Syrian breakfasts and desserts. (https://www.controleng.com/) There is now a small seating area for people to socialise as they enjoy their food and drinks indoors. Damascus bakery has quickly become a loved place to eat for customers from all different nationalities.
For socials, the business uses its website, Instagram and Facebook pages. ''Though we are active on our socials, we actually get most of our customers through word of mouth and that's mainly due to our low costs in these expensive times'' Mohammad adds. The business has been receiving some requests to cater for various different events including weddings, work conferences and mosques. This has allowed the bakery to also start catering as a restaurant as it now also provides dishes that are requested and may not necessarily be on the menu such as roasted meat, kibbeh, rice and many more Syrian dishes.
Mohammad has now been in the UK for 6 years and has been able to make this dream of his a reality, but it doesn't just stop there. He wishes to take this business further and expand it in size, as well as potentially open a warehouse or a large bakery. Until now, Damascus bakery remains the only Syrian bakery in Brighton.
---
Read More
Arrived as a refugee in the UK, and he now runs a successful restaurant in London
Dema.. a Syrian refugee with one leg reminds people of the Syrian struggle