Organized by the Arab Thinking Forum on Sunday, May 22nd in West London, the Grand Palestinian Bazaar aimed to provide a space for businesses big and small to sell Palestinian products in the UK.
Grand Palestinian Bazaar
Muhammad Amin, President of the Arab Thinking Forum, described the event as the largest Palestinian market in Britain, where participants can display their products from the West Bank and occupied Jerusalem.
The bazaar also aims to reaffirm the presence of Palestinians who have will never forsake their identity, history and heritage, according to the Vice-President of the Arab Thinking Forum Muhammad Ayesh.
"This great gathering confirms the endurance of the Palestine cause, and the inevitability of Palestine's liberation," he added.
The Palestinian ambassador to the UK, Husam Zomlot, lauded events such as the Grand Palestinian Bazaar for bringing Palestinian and Arab communities together.
"This event refutes the Zionistic phrase, "the old shall die, the young shall forget," he says. "Here we see Palestinian and Arab children attending to celebrate their culture and identity."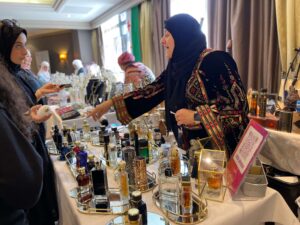 In an interview with AUK, Zomlot said that the unity and solidarity he witnessed in Shireen Abu Aqleh's funeral in occupied Jerusalem is mirrored in Britain, where Palestinian Arabs fight to preserve their identity despite the distances.
"To our people everywhere, be sure that uplifting the Palestinian identity and its cause will inevitably lead to salvation, liberation, and a return to our brothers and sisters in Palestine."
Palestinian Professor and chair of the Palestine Solidarity Campaign (PSC) Kamel Hawwash expressed his joy at the number of children attending the bazaar, stressing the importance of consolidating the Palestinian and Arab identity in their minds.
"Here, they can only look around to see Palestinian flags, Palestinian food, and Palestinian clothing," he said, "this will eventually help them shape their Palestinian-Arab identity."
The bazaar presented a special area for the late Shireen Abu Aqleh and another displaying Palestinian heritage and its delicious dishes, such as: pastries (fatayer), olives, Arabic coffee, and Nabulsi kunafa.
Visitors were greeted with tables full of a wide variety of products, including but not limited to textiles, perfumes, fabrics, traditional clothing, and various creative handicrafts.
Then they enjoyed a traditional Palestinian dabkeh performance by a group of talented young women.
---
Read More:
Shireen Abu Akleh… the voice of Palestine
Thousands Attended Eid Al-Fitr Prayer Organized by The Palestinian Forum
International online campaign under the slogan "Brave Palestine"